BMBF-funded Project KIT-Lehre hoch Forschung
Political Objectives of the Teaching Quality Pact
With the federal-state program for better study conditions and greater quality in teaching, the student services and teaching quality in higher education institutions should be improved. For this purpose, the federal government has provided about two billion euros for the period of time between 2011 and 2020. 186 universities from all 16 states are hereby funded.
At KIT, several measures in the fields as well as in the central institutions were launched as part of the funded "KIT-Lehre hoch Forschung" project, including the project "Integrative conzept of academic program development with Higher Education Tandem".
Infoportal LehreForschung of KIT:
Integrative concept of degree program development with Higher Educational Tandems
The Tandem as a direct link between Human Resources Development (PEBA) and the KIT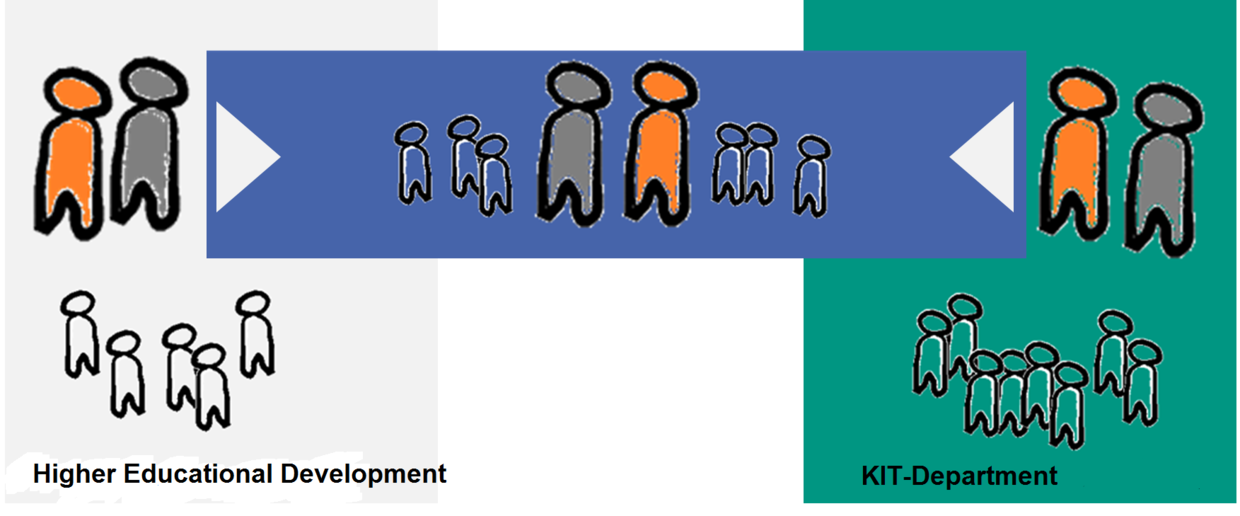 In Tandem, a graduate engineer from Mechanical Engineering and a graduate pedagogue from Human Resources Development work closely together. The combination of several years of teaching experience and the knowledge of discipline-specific requirements and ways of thinking (specialist) and the expertise in teaching skills development as well as the conception and implementation of university teaching projects (H.E Developer) allow a goal-oriented approach to achieve the project objectives.

Project objectives
Discipline specific support and supervision of the development of the degree programs
Development of customized disciplin specific innovations in H.E. or university teaching, approaches and concepts for departments

Offers of Higher Educational Tandem
Certificate program "Advanced Teaching Competencies" for postdocs and junior research group leaders
Workshops in university teaching (e.g. Theses Supervision, Fit for Teaching 1+2)
Individual consultation (e.g. on qualification objectives, reorganization of courses)
Expert observation with individual feedback
Demand-orientated offers (e.g. HD-ImPuls brief talks)
These offers are part of the project "Teaching to the Power of Research-Plus". All events are funded by the BMBF and can be offered free of charge.
University Didactics
Definition
"The German term, "Hochschuldidaktik" 'corresponds to the Anglophone, Educational Development'.
It includes in this respect research and development, training, and advice on teaching and learning processes at the University. The task of the University Didactics is to qualify the teachers based on research to be able to conduct a scientifically based study reform and develop the university as a learning organization. The University Didactics sees itself as part of the self-reflection of the higher education and research system. "
Santina Battaglia Chairman Deutsche Gesellschaft für Hochschuldidaktik e.V.