About us
The Department of Mechanical Engineering is part of KIT's Area 3 "Mechanical and Electrical Engineering" together with the Department of Electrical Engineering and Information Technology, four Helmholtz programs, and eight institutes of the large-scale research area. The department consists of more than 20 institutes with about 1,000 employees, including about 40 professors, 460 scientific employees, and 200 employees in administration and technology. In addition, there are several hundred tutors and scientific assistants.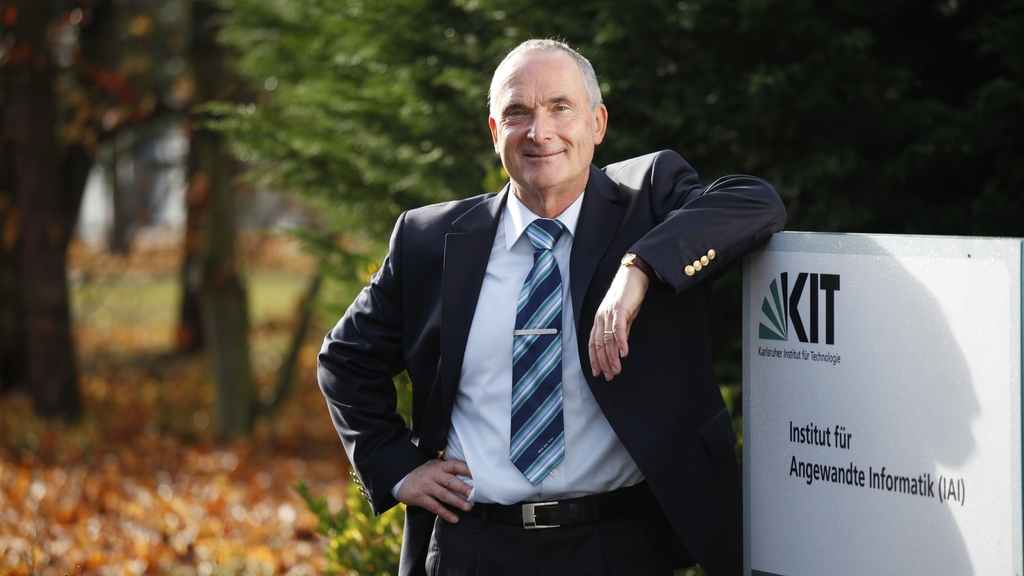 Grashof commemorative medal of the VDI for Prof. Bretthauer
Prof. Georg Bretthauer will be honored with the Grashof commemorative medal of the VDI during the German Engineers' Day on Thursday, May 25, 2023. The Grashof commemorative medal is the highest award of the Association of German Engineers (VDI). It was established in 1894 in memory of Franz Grashof (co-founder and first director of the VDI) and is awarded as a sign of recognition and thanks for outstanding scientific or professional achievements in the technical field. The honoring ceremony will take place from approx. 6:50 p.m.
Program of the German Engineering Day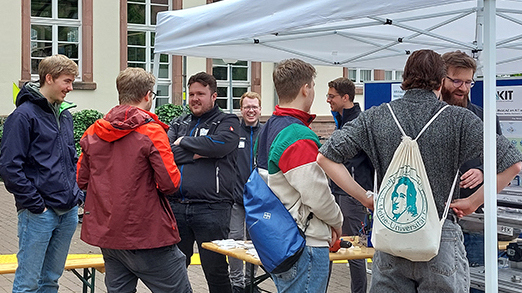 Campus Day, May 13th, 2023
The Campus Day was an all-around successful event for mechanical engineering. A varied mechanical engineering program awaited the guests. Counseling centers and institutes of the department provided information about study programs, studies and research. In addition, there were presentations on the mechanical engineering, MatWerk, MIT and MEI degree programs. A campus tour of the MINTnet@KIT was followed by a lab tour. Large and small exhibits attracted lively interest, as did the hands-on experiments. Many thanks to all participants. Pictures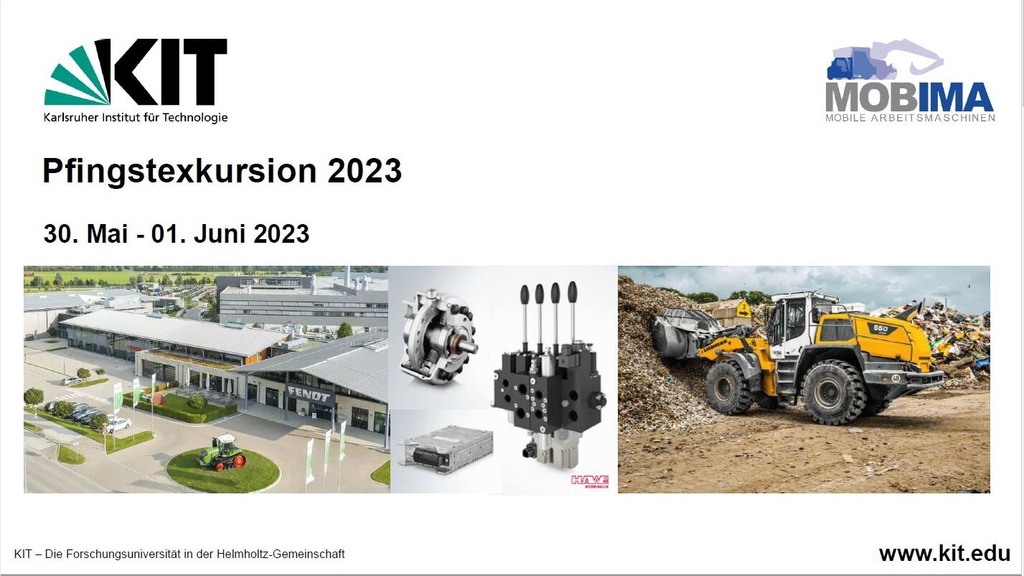 FAST Mobima Whitsun excursion
In 2023, FAST Mobima will again offer a Whitsun excursion. This year, we will travel across Bavaria to Austria to visit the companies Fendt, Hawe and Liebherr. There will be plenty of time to talk to developers from the companies in a relaxed atmosphere. Information about the exact schedule and registration can be found in the link below. Mobima is looking forward to visiting the companies together with students.
Information about agenda and registration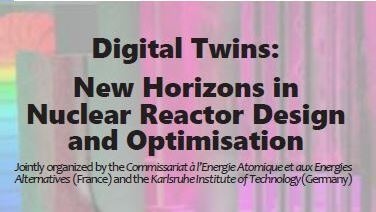 FJOH Summer School from August 23th until September 1rst
The FJOH Summer School (FREDERIC JOLIOT/ OTTO HAHN) is a postgraduate course aimed at young and experienced scientists and engineers in the field of nuclear, engineering and technology. In 2023, the focus will be on modeling and simulation, including information and data flows between the physical system and digital representation. Participants expand their knowledge of scientific and technical aspects of nuclear digital twins. Registration until May 20th, 2023.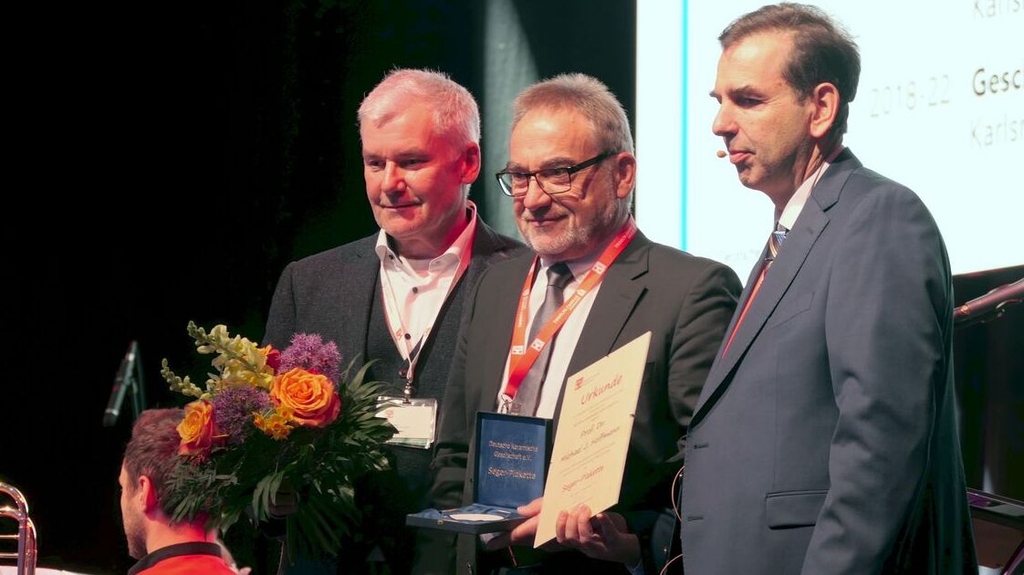 Seger Plaque for Prof. Michael J. Hoffmann
Prof. Michael J. Hoffmann of the IAM-KWT has been awarded the Seger Plaque by the German Ceramic Society (DKG). The DKG has been awarding the Seger plaque since 1929 to personalities who have made outstanding scientific achievements in the field of ceramics. We congratulate Prof. Hoffmann very warmly! Photo from left to right: Dr. Detlef Nicklas (DKG Managing Director), Prof. Michael Hoffmann (KIT) and Prof. Christos Aneziris (DKG President, TU Freiberg).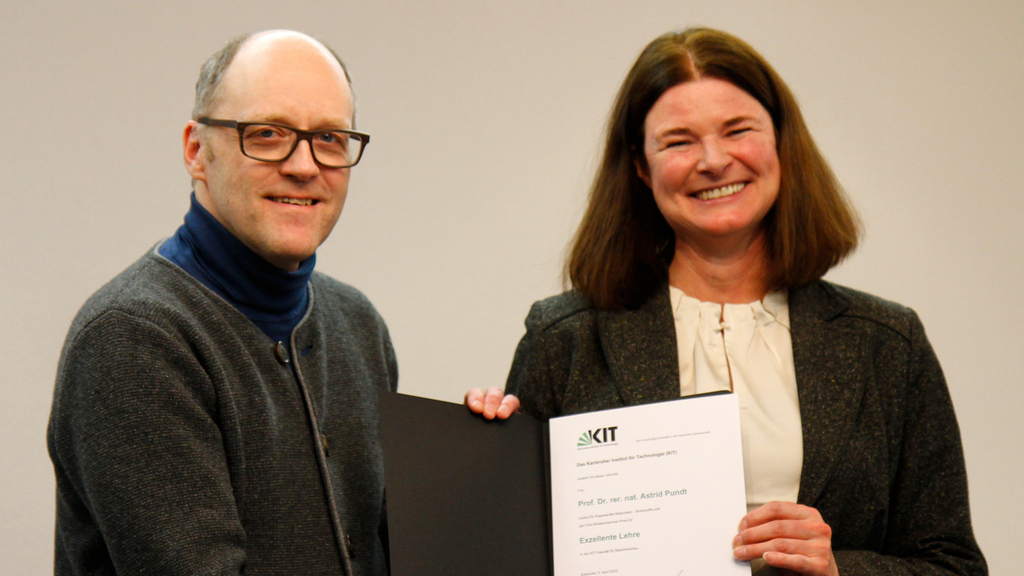 The Department Teaching Award for Mechanical Engineering for Prof. Astrid Pundt
The Department Teaching Award for Mechanical Engineering (Fritz Weidenhammer Award) goes this year to Prof. Astrid Pundt (IAM-WK) for her lecture "Hydrogen in Materials: From Energy Storage to Material Embrittlement". The award ceremony took place on March 12, 2023 in Adelboden (Switzerland) during the traditional materials seminar of the IAM-WK by Prof. Alexander Wanner, Vice President for Teaching and Academic Affairs.